A Professor and Apostle Correspond: Eugene England and Bruce R. McConkie on the Nature of God
By Rebecca England
We must truly listen to each other, respecting our essential brotherhood and the courage of those who try to speak, however they may differ from us in professional standing or religious belief or moral vision . . . and then our dialogue can serve both in truth and charity.
       —Eugene England, 1966
It is my province to teach to the Church what the doctrine is. It is your province to echo what I say or to remain silent.
 —Bruce R. McConkie, 1981
 One of the most troubled times of my life came about when I failed to make the distinction between Brother and Brethren.
       —Eugene England, 1993
_____________________
IN LATE MAY 1981, Professor Eugene England returned to the BYU London Centre after spending the previous month directing Study Abroad students traveling on the European continent as part of their six-month coursework. He was still unsettled by the shocking experience of witnessing just days earlier the assassination attempt on Pope John Paul II's life in St. Peter's Square. These were the circumstances during which he found in his stack of unopened mail a ten-page letter from Elder Bruce R. McConkie that began: "This may well be the most important letter you have or will receive." Dated19 February 1981, the letter was Elder McConkie's response to a letter and essay England had sent to the apostle on 1 September 1980.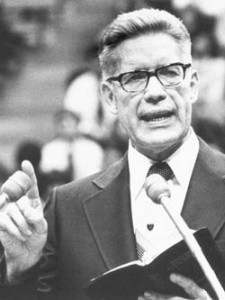 Three decades later, McConkie's letter to England is closely associated with these two influential Mormon intellectuals. When someone enters a Google search for either "Eugene England" or "Bruce R. McConkie," links to websites containing the full text of McConkie's notorious letter appear at or near the top of the list. According to historian Claudia Bushman, "a microcosm of the diverging styles" of faithful Church intellectuals can be seen in this "celebrated showdown between England, a provocative thinker . . . and McConkie, a lawyer and doctrinaire General Authority." She believes the "McConkie-England disagreement revealed the division between theological conservatives and liberals within the believing camp and, in a larger sense, the tension between authoritarian control versus free expression."1
Because copies were widely circulated, McConkie's 1981 letter has impacted many people beyond just England, including his family, friends, and many Latter-day Saints who felt that Elder McConkie's authoritarian and threatening tone was unbefitting an apostle of Jesus Christ. Others saw the McConkie letter as an expression of one of the Lord's anointed apostles acting fully in harmony with his calling, which includes correcting—even with sharpness—ideas that might be harmful to faith. A prolific personal essayist, England never spoke or wrote publicly about the controversy except for a few paragraphs in his 1993 essay, "On Spectral Evidence." However, documents found in England's papers help reconstruct and give context to this remarkable exchange between a Latter-day Saint professor and apostle.
ON 13 SEPTEMBER 1979, Professor England was scheduled to speak to BYU honors students. His talk—"The Lord's University?"—would address the Latter-day Saint ideal of continuing, life-long education through a review of, among other examples, the Mormon doctrine of eternal progression in knowledge. It would also include an invitation for the audience to respond to Joseph Smith's optimistic view of unlimited human potential in relation to divinity as expressed in his last major sermon, the King Follett Discourse. The evening before the scheduled lecture, England received a phone call at home from Joseph Fielding McConkie, a BYU religion professor. Professor McConkie had read an earlier version of "The Lord's University?" and told England he thought his father, Elder Bruce R. McConkie, would strongly disapprove of its content. After a lengthy conversation, England invited Professor McConkie to the lecture so he could share with the audience what he felt his father's objections might be. After hanging up the phone, England discussed the conversation with his wife, Charlotte, who expressed her concern that the interaction could become negative and advised against inviting McConkie to participate. England, however, thought it would be beneficial for students to see the respectful exchange by faculty members of differing opinions.2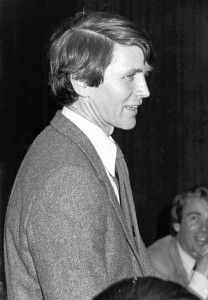 After giving his lecture, England invited Joseph McConkie to respond. In his response, McConkie stated that his father, Elder McConkie, and grandfather Joseph Fielding Smith, taught of a god that is not progressing and whose perfection is absolute. "Though I accord a man the privilege of worshipping what he may, there is a line—a boundary—a point at which he and his views are no longer welcome." Joseph concluded: "I do not see the salvation of BYU in the abandonment of absolutes, and with the prophets whose blood flows in my veins, I refuse to worship at the shrine of an ignorant God."3 As audience members sat stunned at the combative and superior tone of Professor McConkie's remarks, England attempted to ease the tension in the crowded lecture hall and restore collegiality by expressing his appreciation for Brother McConkie's response and acknowledging the educational value for students to hear such an open and honest exchange of ideas.
This Eugene England and Joseph McConkie exchange might have remained a much-discussed disagreement between BYU professors that would fade with memory. However, nine months later, on 1 June 1980, Elder Bruce R. McConkie delivered at a BYU Devotional, a lecture entitled "The Seven Deadly Heresies." The primary "heresy" Elder McConkie warned against was the belief that "God is progressing in knowledge and is learning new truth. This is false, utterly, totally, and completely." He further stated that we cannot be saved unless we believe that the "truth as revealed to and taught by the Prophet Joseph Smith is that God is omnipotent, omniscient, and omnipresent." McConkie belittled those who think otherwise as having "the intellect of an ant and the understanding of a clod of miry clay in a primordial swamp."4
McConkie's talk immediately generated heated discussion among faculty and students. In Lengthen Your Stride, a biography of Spencer W. Kimball's Presidency years, Edward Kimball refers to this incident:
President Kimball was not doctrinaire, and he felt a need to interfere in doctrinal matters only when he saw strong statements of personal opinion as being divisive. Elder McConkie's talk at BYU on "The Seven Deadly Heresies" implied he had authority to define heresy. . . . President Kimball responded to the uproar [caused by the devotional] by calling Elder McConkie in to discuss the talk. As a consequence, Elder McConkie revised the talk for publication so as to clarify that he was stating personal views and not official Church doctrine.5
This was not the first or last time that Elder McConkie would be quietly corrected by a Church president for causing controversy and division. For generations, Latter-day Saints have cited Bruce R. McConkie's Mormon Doctrine as an authoritative source of official Church doctrine. However, its unauthorized publication in 1958 met with strong disapproval and objections by President David O. McKay, the First Presidency, and the Quorum of the Twelve Apostles. At the direction of President McKay, an analysis of the book by two apostles noted its many doctrinal errors, offensive statements, and overly authoritative tone. President McKay directed that the book not be republished and that it be repudiated. Elder McConkie also was privately reprimanded by the First Presidency and Quorum of the Twelve for his problematic publication.6 However, few students or faculty were aware that Church prophets and authorities ever disapproved of and required corrections of Elder McConkie's spoken or written words. Many did not distinguish his opinion from official Church doctrine; others found McConkie's statements contradicting other Church leaders confusing.
England considered McConkie's "Seven Deadly Heresies" talk, along with other writings and sermons by Church leaders, and drafted a new paper, "The Perfection and Progression of God: Two Spheres of Existence and Two Modes of Discourse." Then, on 1 September 1980, England typed a letter to McConkie on his home office Underwood manual typewriter. In taking this step to share his concerns privately with Elder McConkie, England hoped to avoid public controversy and find McConkie more open-minded in personal conversation than what was suggested by his public rhetoric. In his "Bruce R. McConkie" file, Eugene kept a copy of "All Are Alike unto God," an address McConkie gave soon after the 1978 revelation on the priesthood, in which Elder McConkie admits to having misinterpreted the scriptures and statements of previous prophets: "Forget everything that I [and others] have said . . . contrary to the present revelation. We spoke with a limited understanding."
During his life and career, England had personally known, sought counsel from, and received the support of a number of Church leaders whom he held in high regard. He and Charlotte had especially positive associations with Hugh B. Brown, Marion D. Hanks, Harold B. Lee, Spencer W. Kimball, and David B. Haight. Never having personally interacted with Elder McConkie, England begins his letter by expressing warmth and admiration for the apostle, especially his testimony of Jesus Christ: "I was especially moved by your witness and psalm of praise in last April conference." After briefly recounting the disagreement with his son Joseph the previous year, he explains why he is writing now to the apostle:
After last fall's lecture, I got a copy of your son's response, studied it carefully, and decided that his strong feeling that I was out of harmony required that I rethink the whole matter. So I have, this past year, carefully and prayerfully gone back over all the pertinent sources I could find and have written the enclosed paper about my findings. . . . But I recognize that I could certainly be wrong, that I could be interpreting Joseph Smith and Brigham Young and others incorrectly, or that subsequent revelation has invalidated what they said. I accept the authority of the living prophets and not only want to be but assume I am fully in harmony with them, including, of course, with you. If not, I want to be put right.
It would be gracious of you to read my paper and give me some response if you feel there is need. If you have any question about my ability or good faith before you take the time to read my work, you could check with Elder Boyd K. Packer or Elder David B. Haight, both of whom know well my mind and spirit.
In January 1981, England began the aforementioned six-month assignment as Associate Director for BYU London Study Abroad, so he was out of the country when Elder McConkie eventually wrote a response. Before England had even received McConkie's letter or knew of its existence, however, copies that had originated from the apostle's office were already circulating on the BYU Provo campus.
After stating, "This may well be the most important letter you have or will receive," McConkie acknowledges the receipt of England's letter and the enclosed paper. He briefly summarizes the contents, states he does not participate in discussions of controversial subjects, but had eventually decided, partly out of respect for Eugene's parents, to answer England's letter. "I shall write in kindness and in plainness and perhaps with sharpness. I want you to know that I am extending to you the hand of fellowship though I hold over you at the same time, the scepter of judgment."
Long passages of the letter consist of quotes from McConkie's own speeches and state his opposition to the idea of a god who progresses and his fear that such a concept could lead to questions that undermine faith: "Will [God] one day learn something that will destroy the plan of salvation and turn man and the universe into uncreated nothingness?"
In his response, McConkie also makes several statements about Brigham Young that would eventually catch the attention of anti-Mormon groups, who regularly quote the letter. McConkie says that while Brigham Young was a prophet, he did not always speak as a prophet and sometimes "expressed views that are out of harmony with the gospel" [and] "erred in some of his statements on the nature and kind of being that God is. . . . What [Brigham Young] did is not a pattern for any of us. If we choose to believe and teach the false portions of his doctrines, we are making an election that will damn us."
After directing England to cease speaking on the subject of the progression of God or sharing copies of his paper on the subject, McConkie emphatically states: "It is my province to teach to the Church what the doctrine is. It is your province to echo what I say or to remain silent."
McConkie then expresses his expectation that if England is "receptive and pliable," he will "get the message." He follows with a prayer for his well-being and an invitation to visit privately in his office if England so desired, but he then adds what is hard to interpret as anything other than a dig: "Perhaps I should tell you what one of the very astute and alert General Authorities said to me when I chanced to mention to him the subject of your letter to me. He said: 'Oh dear, haven't we rescued him enough times already.'"
The letter closes with an additional warning to England that his soul's salvation depends on accepting the apostle's counsel: "It is not too often in this day that any of us are told plainly and bluntly what ought to be. I am taking the liberty of so speaking to you at this time, and become thus a witness against you if you do not take the counsel."
DISTRESSED UPON REALIZING that an apostle saw him as a nuisance and potential heretic, as well as that a sensitive, private letter had been made public, England soon wrote a letter to clear up misunderstandings and assure McConkie that he wrote sincerely asking for McConkie's judgment of his efforts to build faith in his students by harmonizing apparent differences in prophetic statements on the nature of God, and that he would "obey his directions exactly." Most of England's friends and family were unaware of his struggle to respond with integrity to McConkie's letter of reprimand.
Upon his return to Utah from London, other priorities emerged, allowing the heartache caused by these exchanges with the apostle to fade into the background. England became fully engaged in other activities, such as founding the non-profit charity Food for Poland, continuing to develop and teach the BYU freshman honors colloquium, teaching Shakespeare and American and Mormon literature, writing scholarly and personal essays, assisting Charlotte in caring for her dying mother in their Provo home, and serving as bishop of a BYU young married students' ward.
Shortly after the controversy over the letter began to subside, another incident occurred on the BYU campus that stirred up similar feelings about the way Elder McConkie would sometimes choose to exercise his right as an apostle to correct what he saw as false doctrine or practices that could potentially prove harmful to faith. The catalyst for this renewed stir was a 2 March 1982 televised speech in which McConkie publicly censured popular BYU religion professor George W. Pace (and a colleague of his son, Joseph F. McConkie) for teaching his views about the importance of developing a personal relationship with the Savior, Jesus Christ. Following this talk, McConkie again received private counsel and correction from President Spencer W. Kimball. In response to McConkie's rebuke, Pace, a longtime friend and colleague of England's since the 1960s when they had taught together at the Stanford University LDS Institute of Religion, publicly apologized and stopped teaching and writing about developing a personal relationship with Jesus Christ.
England decided to engage Elder McConkie later that year, not over the Pace censure but because he had learned that the McConkie letter to him had been recently published by disaffected Mormons Jerald and Sandra Tanner, who had taken special interest in the apostle's candid statements about President Brigham Young's having at times taught false doctrine. In a short 29 October 1982 letter to McConkie, England reassures the apostle that he has secured the original letter McConkie sent to him and had never released a copy. "Perhaps you should know that I have learned recently that a copy of your letter was seen here at Brigham Young University just a few days after it was written, in early 1981 and long before I received the letter in England. It was understood that the copy had somehow originated in your office." He also regrets the ripples of controversy surrounding their interchange "over what I have consistently intended and felt was an honest and faithful pursuit of truth and understanding. It is still not entirely clear what lessons I have learned, but I am sincerely trying. May the Lord continue to bless you in your powerful work as a special witness of Christ."
AS HE HAD promised the apostle, England did not publicly teach his beliefs about God being both perfect and progressing until four years after Elder McConkie's death. (In this way, he honored the apostle's counsel: "It is my province to teach to the Church what the doctrine is. It is your province to echo what I say or to remain silent.") Feeling he was no longer bound to follow McConkie's counsel of silence, England published "Perfection and Progression: Two Complementary Ways to Talk About God" in the 1989 summer issue of BYU Studies. The acceptance of this essay in BYU Studies is, itself, a recognition by editors faithful to the church that the two views of God co-exist within Mormon thought and are worth at least considering and attempting to reconcile.
In his 1993 essay "On Spectral Evidence," England looks back on the controversy surrounding McConkie's letter. In it, England begins to give shape to those "not entirely clear" lessons he was to have been learning from his interactions with Elder McConkie, wondering out loud if he may have violated his own integrity by so readily promising to be silent when faced with McConkie's reprimand.
Certainly it is possible for an individual among the Brethren to ask me to do or believe something I simply could not, at least in good conscience. As Elder Boyd K. Packer explained in a devotional address at BYU in 1991, safety lies in the motto, "Follow the Brethren, not the Brother."7
Using that idea as a springboard, England reflects on "one of the most troubled times of [his] life [when he] failed to make the distinction between Brother and Brethren" and reviews his intentions in contacting McConkie, along with his feelings of hurt and bewilderment at the apostle's harsh response. He then reflects further on his promise of silence, his efforts to be obedient and open-hearted toward this general authority, his concerns about publicity, and his eventual decision to break his silence after McConkie's death.
It was certainly not my prerogative to publicly challenge or oppose Elder McConkie's ideas, especially while he was serving as an apostle. But neither did it any longer seem right for me to remain silent about what I understood to be an important and official teaching of the Restoration affecting the education of my students, so in 1989 I published an essay in Brigham Young University Studies, exploring as objectively as possible two complementary ways of talking about God—as perfect and as progressing.
Throughout the remainder of his life, England consistently taught what he saw as a unique Mormon theological teaching of a perfect and progressing God, but he always remained respectful of the diversity of opinion on the subject. Perhaps England's most eloquent presentation of his views on the paradoxical nature of a being both perfect and progressing is found in one of his final essays, "The Weeping God of Mormonism." There, England harmonizes a way of honoring Elder McConkie's concern about people possibly losing faith if they were to believe in a Deity who was other than "omnipotent, omniscient, and omnipresent." Commenting on differences between theological positions presented in the "Lectures on Faith," an early doctrinal exploration, and Joseph Smith's later views, England writes:
I think [Joseph Smith] eventually saw no inherent contradiction between the Lectures and his later understanding of God as having "all" knowledge and power, sufficient to provide us salvation in our sphere of existence (and thus being "infinite"), but also as one who is still learning and developing in relationship to higher spheres of existence (and thus "finite"). God is thus, as Joseph understood, redemptively sovereign, not absolute in every way, but absolutely able to save us.
INDIVIDUAL TEMPERAMENT RATHER than logical argument may ultimately cause one individual to believe in an unchanging God with absolute knowledge and limitless power and another to be drawn to a more personal God limited by natural laws and somehow progressing in knowledge. As noted earlier, Claudia Bushman suggests that in many ways Eugene England and Bruce R. McConkie represent the liberal and conservative strains of orthodox Mormon intellectuals. In his attempts to describe and continue this dialectic in Mormon theology, Eugene England valued and invited dialogue between different perspectives rather than rushing to settle debates about the nature of God. Confident in the reality and benevolence of God, England concludes his 1989 BYU Studies essay on the nature of God by embracing adventure and a degree of risk in an open universe without end. In contrast, Elder McConkie felt no reservations at claiming authority to define and declare gospel truth. His testimony was of God's omniscience and omnipotence, and he unhesitatingly warned his audiences to adopt his views or risk straying into apostasy. One approach invites dialogue; the other silences dissent.
When questioned by his family, colleagues, and students about his thoughts and feelings surrounding Elder McConkie, England was consistently and remarkably sympathetic and respectful of the apostle. His children have no recollections of their father expressing bitterness toward Elder McConkie, or any other apostle. Immediately following the broadcast of the April 1985 General Conference in which Elder McConkie gave what turned out to be his final talk before his death thirteen days later, England commented on how moving he found Elder McConkie's personal testimony of the Savior.
Online discussions reveal that curiosity about the England and McConkie exchange has not waned in the three decades since it took place, as it raises important questions about the rights and responsibilities of individuals as they relate to religious authority. Many individuals take sides, severely faulting either England or McConkie. Some assume England must have grievously erred to receive such a stern rebuke from an apostle; others find McConkie's counsel harsh, heretical, arrogant, and even spiritually abusive.
What clearly emerges in the exchange, however, is that both England and McConkie saw themselves as defenders of the faith—loyal believers with profound testimonies of Jesus Christ and the restored gospel. As Latter-day Saint intellectuals obviously committed to their faith, England and McConkie were nevertheless near opposites in their temperaments and approaches to paradoxical positions. In this instance, the correspondents were concerned with the Latter-day Saint understanding of the nature of God. The differences between England and McConkie bring to mind the conflicts between Brigham Young and Orson Pratt recounted in Gary James Bergera's Conflict in the Quorum,8 with England favoring Young's position on a progressing God and McConkie siding with Orson Pratt on God's absolute perfection. Yet underlying their exchange is the more general conflict between one BYU professor's desire to engage in and expand discussion and one authority figure's opposition to open-ended exploration and its potential to damage the kind of faith he felt was necessary to have for salvation. Both desires emerged from these men's concern for others and, hence, deserve being honored in that spirit.
In 2001, seven weeks before his brain cancer was finally diagnosed and when he was struggling with severe anxiety, depression, and physical discomfort, England wrote a journal entry he titled "The Voices I Hear." He included as eighteenth in a list of nineteen voices—those of family members, friends, university administrators, and Church leaders—Elder Bruce R. McConkie, along with a line paraphrasing the famous one in the 1981 letter: "My job is to define doctrine. Your job is either to support what I say or be quiet." During this period of depression and anxiety that was so uncharacteristic of him, England occasionally wondered if he was experiencing the effects of unresolved anger about his forced retirement from BYU in 1998, and he also privately commented to a few close friends his utter bewilderment at the poor treatment he had received from some apostles, whom he continued to sustain as inspired servants of God. Following the diagnosis of his brain cancer and removal of the malignant tumors, though he was dramatically limited physically and mentally, England regained his characteristic optimism and faced his death unburdened by past regrets and unreservedly expressing his core beliefs and love to friends and family.
_____________________
Human beings cannot be reduced to an action, a political or intellectual position, a quotation in a newspaper, an essay or a story they have written…. We are never less—and actually much more because of our infinite potential—than the complete sum of our history, our stories, a sum which is constantly increasing, changing, through time.
—Eugene England, "On Spectral Evidence," 1993
 NOTES
1 Claudia L. Bushman, Contemporary Mormonism: Latter-day Saints in Modern America (Greenwood Publishing Group, 2006), 149.
2 Charlotte England, conversation with Kathleen Petty, circa May 2009.
3 "The Only Living and True God," transcript of remarks by Joseph McConkie at Flea Market, September 1979, in Eugene England Papers, Special Collections, University of Utah Marriott Library.
4 Bruce R. McConkie, "The Seven Deadly Heresies," in Brigham Young University Speeches of the Year (Provo, UT: Brigham Young University Press, 1980), 74-80. Copy of original, unrevised transcript in Eugene England Papers.
5 Edward L. Kimball, Lengthen Your Stride: The Presidency of Spencer W. Kimball (Salt Lake City:Deseret Book, 2005), 101
6 Prince, Gregory A. and Wm. Robert Wright, David O. McKay and the Rise of Modern Mormonism (Salt Lake City: The University of Utah Press, 2005), 49–53.
7 Eugene England quoting from Boyd K. Packer, "'I Say unto You, Be One'," in Brigham Young University 1990–1991 Devotional and Fireside Speeches (Provo, Utah: Brigham Young University Press, 1991), 84.
8 Gary James Bergera, Conflict in the Quorum: Orson Pratt, Brigham Young, Joseph Smith (Salt Lake City: Signature Books, 2002).
____________
Links to the Letters
The following items are the intellectual property of the Eugene England Foundation. The foundation expects website users to follow carefully Fair Use of Copyrighted Materials guidelines.
Eugene England to Elder Bruce R. McConkie, 1 September 1980. This is the letter that initiated their exchanges over the issue of Mormon doctrine concerning whether God could both be perfect and progressing.
Elder Bruce R. McConkie to Eugene England, 19 February 1981.
Additional items related to this topic and its aftermath can be found in the Special Collections page of this website.